The big names of East Asia-Pacific cricket will display their cricketing prowess next month in the ICC Men's T20 World Cup – East Asia-Pacific Final in Papua New Guinea.
Port Moresby will open its doors to Papua New Guinea, the Philippines and Vanuatu, the three teams that qualified through the 2018 group stages, with the tournament set to commence on Wednesday March 20th.
The tournament will be a double round robin format with the top team at the end of the tournament progressing to the ICC Men's T20 World Cup Global Qualifier, to be played later in 2019.
Tournament hosts, PNG, will be looking to make the most of their home ground advantage.
PNG captain Assadollah Vala is pleased that the PNG Barramundis have been training very hard and all the boys are looking forward to the EAP final being played on our home ground at Amini Park.
"We are expecting some tough games but we are happy with our preparation and that should help us achieve our goals," Vala continued.
Vanuatu finished second behind PNG in last year's 2020 ICC T20 World Cup EAP Qualifier Group 'A' and will be looking to go one better in PNG.
"We have been looking forward to this tournament for some time now. Our last game with PNG was close and that has given us a lot of confidence," said captain Andrew Mansale.
Mansale believes that PNG are the big favourites so there is less pressure on the team. "The Philippines we know have some good players and can beat anyone on any day so this tournament will be a lot of fun," he said.
Not to be underestimated, the Philippines will be aiming to make an impression and cause some upsets in the tournament and like all other teams, qualify for the Global Qualifier.
Captain Jonathan Hill is excited about the opportunity to compete at this next level. "We hope to make all Filipinos proud of our efforts," Hill said.
"We know that we are competing against two very proud cricketing nations and we are preparing with diligence and determination to ensure we play to our potential," said Hill.
Rob Gomm, the ICC's Tournament Director, believes that the final "will showcase the best of cricket in the Region with each team having worked hard to get to the final and give it their all."
"Cricket in the EAP region is increasing in profile, and this tournament provides an exciting opportunity for our members to play quality cricket and further promote the game in PNG and across the Region," concluded Gomm.
The tournament will commence on Wednesday March 20th and conclude on Saturday March 23rd. Live scores will be available on the ICC's website.
Squads
PNG
Assadollah Vala (captain), Charles Jordan Alewa Amini (vice-captain), Lega Siaka, Jason Kila, Tony Pala Ura, Sese Bau, Kipling Doriga, John Boge Reva, Nosaina Pokana, Damien Ravu, Chad Aiwati Soper, Norman Vanua, Anthony Dogodo Vare, Simon ATAI
Philippines
Jonathan Hill (captain), Jan Haider Kiani, Kuldeep Singh, Jason Long, Ruchir Mahajan, Surinder Singh, Karweng Ng, Manoj Gohal, Biddappa Machanda, Vimal Kumar, Daniel Smith, Richard Goodwin, Henry Tyler, Grant Russ
Vanuatu
Andrew Mansale (captain), Jonathon Dunn (vice-captain), Patrick Matautaava, Jelany Chilia, Nalin Nipiko, Gilmour Kaltongga, Joshua Rasu, Clement Tommy, Ronald Tari, Wesley Viraliliu, Williamsing Nalisa, Simpson Obed, Callum Blake, Jamal Vira
Fixtures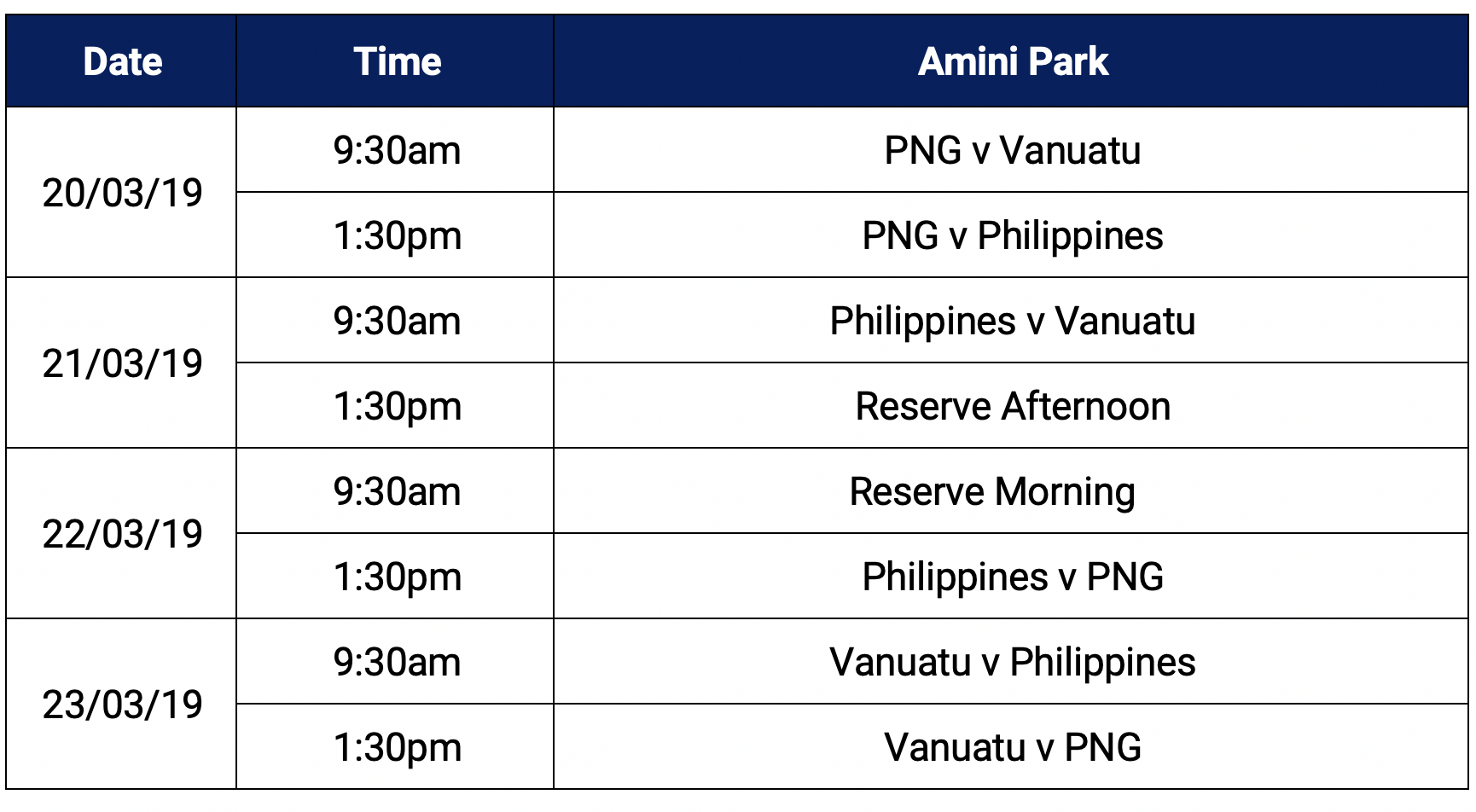 Media Contact
Rob Gomm
ICC Tournament Director
M: +61 428 152 103
E: [email protected]